SHIELD A BADGE WITH PRAYER PROGRAM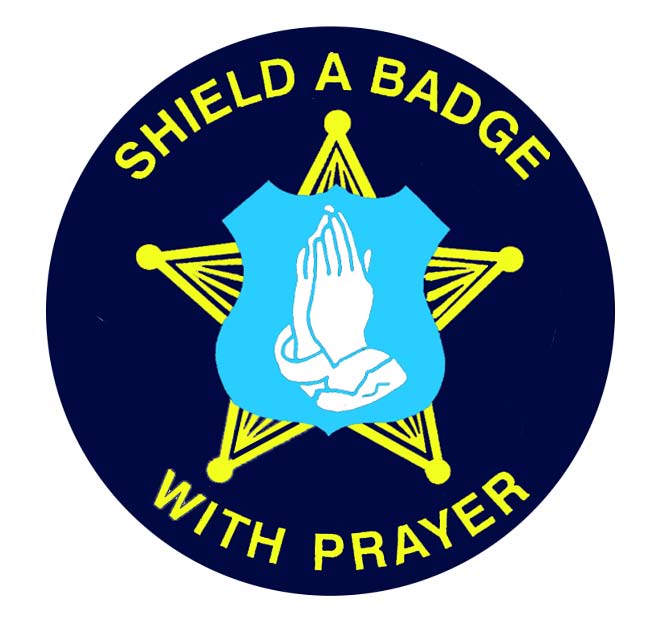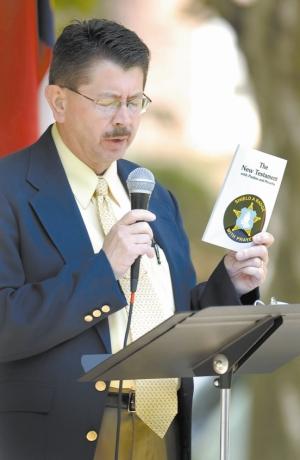 Chaplain's Corner: Dr. Michael "Mike" Taylor, Rowan County Sheriff's Office Chaplain.
Chaplain Taylor has traveled across the 100 counties of North Carolina visiting sheriff's offices to encourage those who do not have chaplains, to help enlist and train a chaplain to serve their various departments. He trains in Officer Stress, Family Support, Suicidal Counseling, Death Notification, Hostage Situations, Volunteer Jail Ministry Workers, and Jail Aftercare. He uses the resources of the NC Sheriff's Chaplain Association. He has earned numerous awards for his lifelong efforts including the Long Leaf Pine Award of NC, and is listed in the Official Register of Outstanding Americans.
He started the Shield-A-Badge program in Rowan County for the Sheriff's Officers and employees.The program asks people to commit to praying for an officer every day for one year, to send birthday cards and notes of thanks. The Sheild-A-Badge program is in its twelfth year, and his faith offers help for all law enforcement officers and their families to find special meaning in the Bibles that he gives and the Prayers that are shared.
Would you like to start a program that would be a blessing to you, your community, and your Local Law Enforcement Agency?
If the answer is yes, then this is the program for you! What better way than praying for someone in law enforcement? You can let them know you care.
These men and women put their lives on the line each and every day to provide safety for you and me. The law enforcement officer is faced with danger, split-second life and death decisions, frustrations, criticism for their job, and other anxieties. The divorce rate among law enforcement officers is 86%. The three leading causes of death among officers are heart attack, alcohol and drug abuse and suicide. It isn't difficult to see why this program is needed in every law enforcement agency in America.
If you have a burden to start this program, contact your sheriff, police chief, or commander and share with them your burden. Explain to them how this program works by sharing this information with them. If they agree to let you implement this program, start by obtaining the name and date of birth of each employee that wishes to participate. You then assign an employee to each person that contacts you, wanting to pray for an officer. This list is confidential. Do not share it with anyone without permission from your Sheriff, Chief or Commander.
To let people know about this program, get your local newspaper to do an article about the program and its need in your county, city, or town. Send out letters to churches with a copy of this information. Get all the publicity you can. Most agencies have news media that come by and pick up the criminal activity reports of crimes that have happened in your area. This is a good source to spread your Shield-A-Badge with Prayer program.
Be sure to keep good records of all prayer partners and the employees they are praying for. Have good communication with the people in the law enforcement agencies in order to keep your files updated, providing you with any changes in personnel, for example, new hires, retirements, and deaths.
The following pages offer guidelines for implementing and publicizing the program.
The Shield-A-Badge with Prayer program originated prior to 1990 in Arlington, Texas, with Bernadette and Peter Henz, whose three sons were law enforcement officers. This program asks people to commit to pray for an officer every day for one year. So often law enforcement officers don't know anyone ever appreciates what they do and this program is a way to assure officers that what they do is not only important, but it is also appreciated. We want officers to have that Prayer Shield. Each prayer partner will receive the name and date of birth of the officer for whom he or she will pray. They will be able to contact that officer only through mail addressed to the department or agency the officer works for. After a year, prayer partners can rotate names to a new officer or request to keep the same name. In the event that an officer relocate or leaves the force, prayer partners will be assigned a new name for which to pray.
A few Guidelines about the Program are:
1. No personal contact unless the officer initiated it. You can give your phone number and ask them to call you.
2. Do send birthday cards, Christmas cards, Encouragement and Thank You letters to the officer in care of the department or agency where they work. Do something for the officer during special events such as; law enforcement week, which is usually the second week of May.
3. The program starts and renews itself in the Month of May.
4. A card to fold and put on your table as a reminder to lift them up in prayer each day will be sent to each prater partner.
The Shield-A-Badge with Prayer program has had hard back Bibles available with your copyrighted Shield-A-Badge Prayer with Prayer design on the front cover. Also available are Shield-A-Badge with Prayer embroidered golf shirts. We also have bumper stickers, car tags and tag frames, key chains, lapel pins, Bible Promise books, each with the Shield-A-Badge with Prayer design. These are available by the case or per item plus shipping. Shield-A-Badge clocks, medallion coins and commendation bars are the latest items added for purchase.
Interested persons should submit their name, address and phone number, or email to mptaylor7750@aol.com. To receive additional information and a brochure describing the items available you can call: 704-782-7201.
(*The Shield-A-Badge logo is a copyrighted design. Please do not use this logo without prior approval.)
*Shield-A-Badge is a Non-Profit Organization
COURTESY OF WWW.ROWANCOUNTYNC.GOV/GOVERMENT/DEPARTMENTS/SHERIFFSOFFICE/SHIELD A BADGE